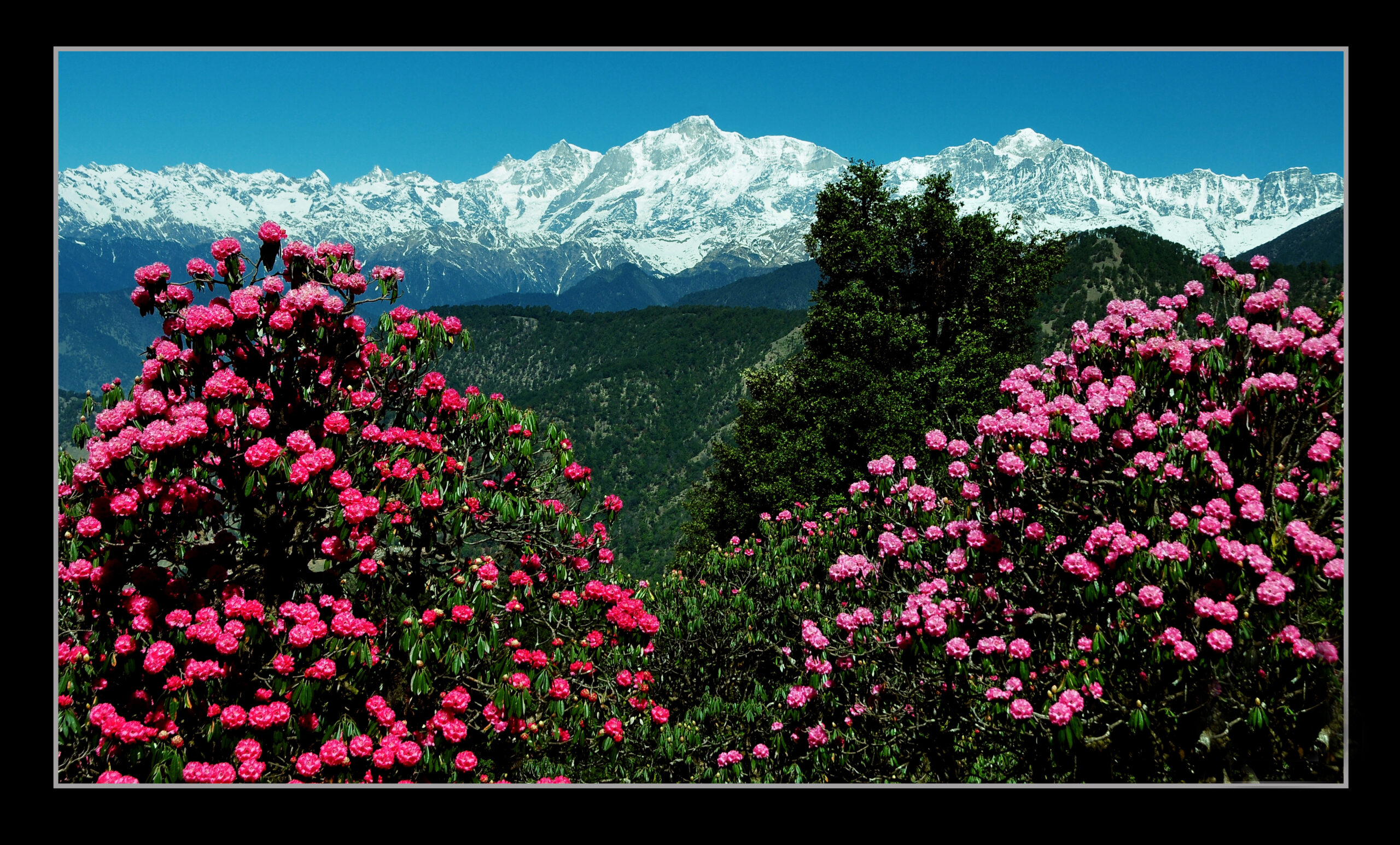 Chopta Uttarakhand- A Nature Lover's Paradise
Nestled in the breathtaking Himalayan range, Chopta is a hidden gem in Uttarakhand, India. This picturesque hill station is a nature lover's paradise, offering untouched beauty and tranquility that is hard to find elsewhere. Chopta is often referred to as the "Mini Switzerland of India" due to its stunning landscapes, lush green meadows, and snow-capped peaks. As you step foot in this enchanting destination, you will be captivated by its pristine beauty and the serenity it offers.
it also serves as a starting point for the Tungnath Trek, which leads to the magnificent Chandrashila Peak (4090 meters above sea level). From the summit of Chandrashila, you can witness a breathtaking 360-degree panoramic view of the surrounding mountains and 180-degree vistas of snow-clad Himalayan peaks, including Nanda Devi, Trishul, Chaukhamba, Kedar Dome, Nanda Ghuti, and more (over 40 peaks in total).
Why Chopta is a Nature Lover's Paradise
Chopta is a nature lover's paradise for several reasons. Firstly, the region is home to a diverse range of flora and fauna, making it a haven for wildlife enthusiasts and birdwatchers. The dense forests of oak, rhododendron, and deodar trees provide a natural habitat for a variety of species, including the elusive snow leopard and the vibrant Himalayan monal. Exploring these forests is like stepping into a world untouched by man, where nature thrives in all its glory.
Secondly, Chopta boasts awe-inspiring landscapes that are a treat for the eyes. The meadows of Chopta offer panoramic views of the surrounding snow-capped peaks, including the famous Chandrashila summit. The beauty of these landscapes is further enhanced by the crystal-clear rivers and serene lakes that dot the region. Whether you are an avid photographer or simply a nature enthusiast, Chopta will leave you spellbound with its untouched beauty.
Lastly, Chopta is a place where one can truly connect with nature. The absence of commercialization and mass tourism allows visitors to experience the serenity and tranquility that nature has to offer. Far away from the chaos of city life, Chopta provides a perfect escape for those seeking solace in the lap of nature. Whether you prefer long walks amidst the meadows or simply sitting by a pristine lake, Chopta offers a sense of peace and rejuvenation that is hard to find elsewhere.
Get Chopta Hill Station Travel Guide, Chopta Trekking and Camping Tips
| Places to See | Tour Packages | Hotels | How to Reach | Distance Chart | Weather | Taxi Hire | Photos |
| --- | --- | --- | --- | --- | --- | --- | --- |
WHY VISIT CHOPTA?
Chopta is a small hamlet located in the Rudraprayag district of Uttarakhand, India. It is a beautiful and serene destination situated in the lap of the Himalayas and offers some breathtaking views of snow-capped mountains, lush green forests, and meadows. Here are some reasons why you should consider visiting Chopta:
Scenic beauty: Chopta valley is situated at an altitude that varies from 1800 meters near the village of Sari to 4090 meters at the summit of Chandrashila peak. It and offers panoramic views of the Himalayan peaks such as Nanda Devi, Trishul, and Chaukhamba. The surrounding forests are also home to a variety of flora and fauna.
Trekking: Chopta is the Base for many popular treks, such as Tungnath, Chandrashila, Deoria Tal, Atri Muni Fall & Ansuyamata Temple and Bisudital . These treks offer stunning views of the Himalayas, and the natural beauty of the region makes the journey truly memorable.
• Spiritual significance: Chopta is considered a sacred place, and the Tungnath temple is an important pilgrimage site for Hindus. which is one of the highest Shiva temples in the world. The temple is located at a height of 3680 meters and offers stunning views of the Himalayas.
• Adventure activities: Chopta offers a variety of adventure activities like Snow Trekking, Hiking, Jungle Walking, camping, rock climbing, rappelling, and river rafting. These activities are perfect for those who love to experience the thrill of the great outdoors.
• Peaceful atmosphere: Chopta is a peaceful and quiet place, far from the hustle and bustle of city life. It's a great place to unwind and relax in the lap of nature.

Overall, Chopta is a great destination for those seeking adventure, natural beauty, and spirituality. It is an ideal place to unwind and reconnect with nature, making it a perfect destination for a rejuvenating vacation.
Get in touch with our Travel Expert
Chopta Excursion Tips/ Travel Guide
If you are planning to visit Chopta, here are some excursion tips and travel guide to help you plan your trip:
Best time to visit: The best time to visit Chopta is from March to June and from September to November when the weather is pleasant and the skies are clear.
How to reach: The nearest airport is the Jolly Grant Airport in Dehradun, which is about 226 km from Chopta. The nearest railway station is in Rishikesh, which is about 209 km away. From there, you can take a cab or bus to Chopta.
Accommodation: Chopta has a few small guest houses and campsites, which offer basic accommodation facilities. You can also find a few hotels and resorts in nearby towns like Ukhimath and Rudraprayag.
Trekking: Chopta is a popular destination for trekking enthusiasts. You can go on a trek to Tungnath, which is the highest Shiva temple in the world, or to the summit of Chandrashila peak, which offers panoramic views of the Himalayan range.
Wildlife and Bird watching: Chopta is home to a variety of bird species and wildlife. You can go on a bird-watching tour or a wildlife safari in the nearby Kedarnath Wildlife Sanctuary.
Local Food: Chopta offers a range of local delicacies, including Garhwali cuisine, which is known for its simplicity and unique taste. Don't forget to try Aloo ke Gutke, Kumaoni Raita, and Bhang ki Chutney.
Essential items: It is advisable to carry warm clothes, comfortable shoes, sunscreen, and insect repellent when you visit Chopta. The weather can get chilly, especially at night, so it is essential to carry warm clothes.
Permits: If you are planning to visit the Kedarnath Wildlife Sanctuary, you will need to obtain a permit from the forest department office in Ukhimath. It is advisable to carry a copy of your permit with you when you go on a safari.
Respect the environment: Chopta is a beautiful and fragile ecosystem. Please respect the environment and do not litter or damage the natural habitat. Take care not to disturb the wildlife and birds.

Chopta is a beautiful destination, and with these tips, you can enjoy a safe and memorable trip.
Chopta Attractions / What to see in Chopta
Chopta is home to several top attractions that showcase the natural beauty of the region.
Tungnath Temple:

One of the must-visit places in Chopta is Tungnath Temple, that give Chopta region create sense of spiritualism. Tungnath ji is Triteeya (third) Kedar among Panch Kedar. Tunganath Ji (Lord Siva) temple is the only temple in the world at this height (3680mt) from sea label. Chopta Tungnath region has its own religious and spiritual importance since ancient and Vedic time/era. The trek to highest temple of Lord Shiva begins from Chopta. You can reach Tungnath by a 3.5km easy but steep trek.
Chandrashila:
Chandrashila is the summit of the Tungnath and can be reached after a steep climb of 1.5 km from Tungnath. It means certainly means "Moon Rock". It is located at a height of about 4,000 meters (13,000 ft) above sea level. This peak provides a spectacular view of Himalayas, especially Nandadevi, Trisul, Kedar Peak, Bandarpunch and Chaukhamba peaks (More than 60Peaks) .
Devariyatal:
Devariya Tal (Also known as Deoria Tal) is an emerald lake perched at an elevation of 2400 mts above sea level located about 3 Km on an uphill trek from Village Sari. During early morning on a clear day, Devariya Tal blesses the tourists with reflections of Chaukhamba peaks on its crystal clear water. At Devariya Tal one can experience the best of two worlds, the first being the real world and the other one being the reflection of the beautiful surroundings on the lake.
Kedarnath WildlifeSanctuary( 975 KM SQ ):
Chopta is a part of Kedarnath Wildlife Sanctuary has Beautiful, dense and diverse forest where more than 100 species of big size tress, 121 species of major mammals, 221 species of permanent and migrant birds and innumerable species of flowers, herbs, and insects are found in abundance.
Meadows and Himalayan Views :
The smooth and jig jack road of Chopta passes through the dense forest and suddenly after 12 km you will find yourself surrounded by meadows. Himalayan views from Chopta make you enchanted. That is why it is one of the best attractions in Chopta.
Chopta Recap
TEMP : May to June - 25℃Max/Min -15℃line-height: 1.5; & up to -10℃ in Jan & Feb.

Best time to visit Chopta :(Sep-Jan)/(Feb-Jun).

Chopta Situated in:Ukhimath,Rudraprayag,India.

Recommended Stay : 4 Days and 3 Nights.

Nearest Railways Station : Rishikesh (190km)/Haridwar(220km)

Nearest Airport : (120km)Jolly Grant,Dehradun.

Chopta is Famous for : Scnic beauty, Treks - Tungnath,Chandrashila,Deoriatal,Ansuyamata etc.
Exploring the Wildlife in Chopta
CHECK OUT
Chopta Swiss Camps :: Chopta Camping :: Chopta Hotel
Activities in Chopta / Things to do in Chopta
Trekking in Chopta :–
Trekking is the main activate in Chopta. You have to gain some altitude by trekking to experience the real beauty of Chopta hill station. These trek routes reach you at certain scenic spots.
Most of the tourists come to Chopta to, do Chandrashila trek. Tungnath trekking, Chandrashila trekking, Deoria Tal trekking are some suggested trekking routs in Chopta. These captivating treks go through some fascinating meadows, quieter villages, and alpine forests. All trek routes are easy to moderate grade. Chandrashila trek turns to strenuous during winter. Deoria Tal trek is the only trek accessible even during heavy snowfall.
Camping in Chopta :–
Camping in the lap of Nature is the best way to explore this beautiful region. You should stay at least 2 or 3 nights in Camps to experience a different way of living without expecting a luxury in a healthy environment to improve your exquisite health. There are so many camping sites in Chopta according to suite your packet.
There are so many camping sites in Chopta and you can opt anyone form those according to your pocket. Package charges of different camping sites depend upon their services, location as well as facilities, and space for activities. You can get these Packages at the best price through us.
Photography in Chopta:-
Chopta is such a place, where everyone wishes to capture the natural beauty in their Camera. The different shades of this valley are good to check your photography skill. There are so many reasons why we called it a photography prone area or picturesque or scenic place. Like one cannot stop himself to capture the reflection of Himalayan peaks in the water of the pristine Deoria Lake.
The Majestic 360degree panoramic view of mountains from Chandrashila and 180degree view of Grater Himalaya makes it the best photo spot for everyone. Other than that it is one of the best places for bird photography and the best place for those who eager to take the different shades of stargazing in their Camera.
Yoga and meditation in Chopta:-
Calm and a healthy environment of Chopta is suited for Yoga and meditation activities. In present so many groups approaching us to book packages for meditation and yoga. Our group has some young and experienced yoga and meditation gurus with us to keep you fit and healthy.
One can plan their spiritual holiday to get away from the stresses of everyday life and bring back peace and natural wisdom, with the guidance of an experienced yoga guru with us according to your strength and time.
Mountain Biking in Chopta:-
Chopta has been a popular trekking destination for quite some time, however, in recent years it has seen some group of mountain biking enthusiasts and has the potential to become a favorite place on any Adventure-junkie's book. Here we have to serve you the mountain biking packages in Chopta. Book budget, leisure group mountain biking tours with us in Chopta.
Bird watching in Chopta:-
Chopta is a bird watcher's paradise. It is famous among birders for the sighting of Monal, Koklass, and Cheer pheasant. Sighting of Monal is common in this area. November -December, and March to the end of April is the time to sights of this beautiful bird.
March to June is generally the best time for birding in Chopta, as many places receive migratory birds that are attracted by the warmer weather of India's subtropical climate. In order to maximize bird sightings, go very early in the morning and/or around sunset. Click here to know about the - Checklist of birds of Chopta.
Places to see in Chotpa Region (Temples and Villages Near Chopta)
Chopta Weather Updates
Chopta Travel Guide & Tips
What is Chopta famous for?
Chopta is famous for, one of the best Hill Station, best and easy Trekking destinations for all age group, bird watching, Yoga Destination and Temples.
It is recommended destination for Corporate Tours, Family with kids Holiday, Foreigners Groups, Solo Camping, and Collage and School Adventure Trips.
Chopta is becoming popular destination day by day among all type of tourist for these activates – Camping (base camp for trek), Adventure Activities, Mountain Biking, Trekking, Night stay during Char Dham Tour, Christmas and New Year calibration, Emerging Destinations for Skiing, Hiking, Best Honeymoon Destination, Leisure Destination, Wide Meadows, Emerging Off Beat Destination, Weekend Getaway, Winter Treks, Snow Treks, Yoga and Mediation Trips, pilgrimages Tours, Wildlife Tour Packages, Photography, Star Gazing, Full Moon Photography, Obstacle Activities.
Chopta Weather - How Chopta in Different season - 2022-23!
Best time to visit Chopta
Any time is a good time to visit Chopta. What's the best time depends on your plans. Below you'll find a general overview of what to expect throughout the year. If you are well prepared, you'll have a wonderful trip regardless of the time of year.
Chopta in summers:( April End to June)
Summer has traditionally been popular among tourists in Chopta. The Himalayan views are very attractive in summer. The maximum temperature goes up to 25degree in Chopta and it remains pleasant enough. It is the best time to visit Chopta with your kids to enjoy the summer vacation. Carry light woolens with you too. Evening light drizzle is frequent during summers.
Chopta in spring:
March is when the first signs of spring can be found in lower regions of Chopta. It's pretty cool in most parts though. In the high altitude like Tungnath and Chandrashila still lots of snow up to the end of March. The time of rhododendron flowering stats from mid-march and can get up to the second week of April. Due to three types of Rhododendron this valley looks like painted with the tricolor. Lower part looks like painted with dark red (Duggal bittha and Baniyakund) and middle part (Bhera khark to Rawanshila) with pink and the upper part (Tungnath Area) of the valley with mixed white & purple color.
Locally Rhododendron is known as Buransh and you can get Buransh juice for good health.
Chopta in monsoon: (June End to 20th September)
The road to Chopta from Rishikesh is now all-weather so; one can reach here to enjoy the beauty of monsoon. Enjoy the sip of coffee, gazing at the green mountains and rarely but stunning views of the snow-capped peaks at Chopta during monsoons. One important thing please do carry a raincoat. The best things to see in Chopta in this season are stunning flora (son many types of small flowers and different herbs in Chopta) small stream and falls. You will find the greenery everywhere to get lost into nature in this season.
Chopta in winters:

October & November:
The weather can still be pretty mild in October, although this is fall and it might as well be a bit Chilly at Tungnath & Chandrashila. The first snowfall will occur in the Himalayan Peaks and views clear in this season. October and November are one of the best months to visit Chopta.
December - Christmas & New-year party atmosphere:
December marks the transition to winter. The first half of the month is similar to November. Winter should set in during the second half. However, snowfall tends to start later in the season due to global warming. A white Christmas is not a guarantee, although still common in the high mountains. Don't expect snow in the valley. It's possible but uncommon nowadays. The two weeks around Christmas and New Year are the most popular weeks of the year among tourists.
January & February:
One of the best activities in winter to indulge your adventurous is Snow trekking to the Chandrashila summit. January to Mid March is the snow season of Chopta and you can enjoy the skiing here in Chopta and do snow treks. Trees are laden with snow and Chopta is picturesque. The temperature drops minimum to minus five and it snows throughout. Snow last tills March. Devariya lake is accessible throughout the winters while trek to Tungnath and Chandrashila depends on the weather conditions.
About Chopta Tourism
The Chopta Chandrashila trek for first-timer can be described in one word- Surreal, but the trek is rich with elements of its own. The mesmerizing landscape, enriched with a variety of flora and fauna, it offers a stunning view of snow-capped Himalayas, like Chawkhamba, Kedar Dome, Nanda Devi, and Trishuli, etc
Chopta lies in the Kedarnath Wildlife sanctuary, so you can spot a lot of mammals, birds like Monal and Koklass pheasant. There are a lot of pretty campsites that make the trek a memorable one. The view of the sunrise from Chandrashila is probably one of the most beautiful things in this beautiful Hill station.
During your Holidays in Chopta, these are some activities can do in Chopta – camping, trekking, yoga, meditation, bird watching, snow trekking, snow skiing, adventure activities ( rock climbing, rappelling, jumaring, valley crossing, flying fox, etc), obstacle activities and photography.
Chopta Photo Gallery
Staying Options in Chopta
Chopta is base best base for around treks like Tungnath, Chandrashila, and Deoria Tal. Earlier there are few hotels with few rooms are available for staying in Chopta and we don't recommend hotels for stay because due to excess rainfall in Chopta, moisture remains almost throughout the year, and the dampness remains in the cemented rooms. So camping is the best option in Chopta (Swiss Camps). There are so, many Camps in Chopta and prices depend upon the facilities, services and location of Camps.
Magpie is one of the best properties in Chopta. We recommend it for as for a first choice because they are pioneer in Chopta as well maintained Camps other Camps are – Camps and Hotels in Chopta .
Chopta Food Guide
Chopta is a small Hill Station with few small Dhabas (Road side small Restaurant)/Restaurants. Maximum Restaurant serves you North Indian food, and the few offers South Indian food as well as Chinese food too. A few Camps site have proper restaurants and offer you multi cuisine like North Indian to Continental as per your Package.